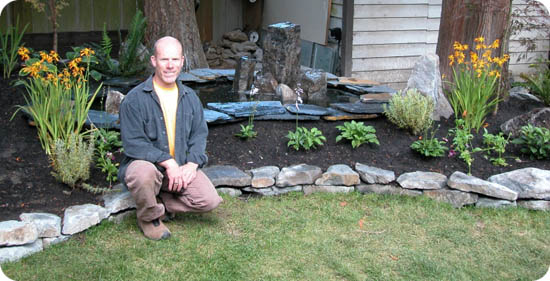 ABOUT US
Ward Beemer, President and Principal of Allscapes Horticultural Services Ltd., has been creating unique outdoor living spaces for over 20 years. His horticultural experience has taken him to many places and he has absorbed design ideas from them all.

Ward's greatest design influence has been British Columbia, particularly the landscapes and plants of Tofino, the Hamathco River, Scar Creek, and the mystical Queen Charlotte Islands, all places where he has spent extended periods of time. "Our goal at Allscapes is to create a work of living art especially for you. Your garden should be a refuge from the stresses of day-to-day life. At Allscapes we want you to experience your garden as a place that immediately puts your soul at ease and your spirit to rest—a place where you can truly say, "I am home."

Allscape's clients are smart, informed, and modern. They are looking for something a little bit different. We work with them to move beyond conventional design, creating unique outdoor spaces that reflect their lifestyle, personality, and desires. Through careful communication we interpret and build each client's personal statement using materials that reflect all that nature offers. We create living art for them, space that is a refuge from the stresses of daily life.

When you enter the space that we create for you, be it ground level or 30 floors above, your natural environment will immediately counterbalance the world outside.

Peaceful oasis, entertainment area, or an outdoor space that combines the two? Our innovative design approach will enhance your home and your lifestyle. We use horticulture as a visual extension of your home's design to create private space for your special moments of serenity and renewal.

Allscapes designs use plants, stone, glass, water, and other natural materials as artistic media. Design possibilities are virtually unlimited. From ground level, ex-urban landscapes to ultra-modern penthouse patios, whether 100 square feet or 10,000 — we will push the design envelope to bring your dreams to reality.

Nature combines shape and texture, fragrance and color, order and chaos in an endless cycle that continues throughout the seasons.

. . . a plant grows, a leaf falls, a flower opens . . .

Just as Nature is dynamic, there is always something unfolding in our designs. We offer you designed spaces that open and close with the seasons—an ongoing celebration reflected in a ray of sunlight, the bloom of a flower, or the shadow of a leaf.